Friday, February 24, 2023 @ 09:08 AM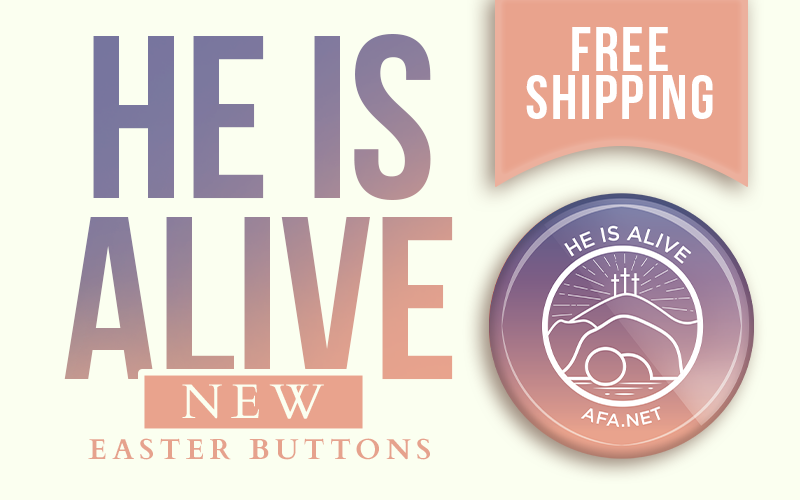 Order yours today!
Since the first AFA button was introduced in 2006 by AFA Founder Don Wildmon, American Family Association has encouraged Christians to use Christmas and Easter buttons to proclaim publicly that these seasons are all about Jesus. With help from faithful friends like you, AFA has distributed millions of buttons bearing the real message of hope for this world.

This year it is our hope that you will Wear & Share the new Easter button by reminding the world of the redeeming message of Calvary and the glorious message of Christ's resurrection: HE IS ALIVE! We purposefully package them in sets of 10 so that you can Wear & Share them and the sets are tier priced in case you want multiple packs for sharing. Shipping is included with pricing.

Bro. Jerry Lawson, the pastor of Enon Cumberland Presbyterian Church in Ackerman, Mississippi, is a longtime advocate of using AFA buttons as a tool for evangelism. He orders in bulk and gives them away to church members, friends and strangers, and anyone he meets in his travels.

"The AFA button is a great conversation starter," Lawson told AFA. "It opens the door to share the gospel."

Over the years, we have heard from countless people like Bro. Lawson, and they all tell us that the buttons are great conversation starters for sharing God's love with others.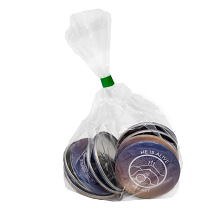 AFA encourages you to Wear & Share our new button and proclaim the message of Easter. Three days after His death, we celebrate the resurrection of Jesus Christ. HE IS ALIVE! Jesus rose again, conquering the grave and death. Through Jesus, we can have eternal forgiveness for our sins, a relationship with God, and eternity in heaven.

Order early to have plenty of time to Wear & Share them through the season of Lent through Easter. We hope that you will give the buttons to friends, family, neighbors, and everyone you meet.