Wednesday, April 26, 2023 @ 09:55 AM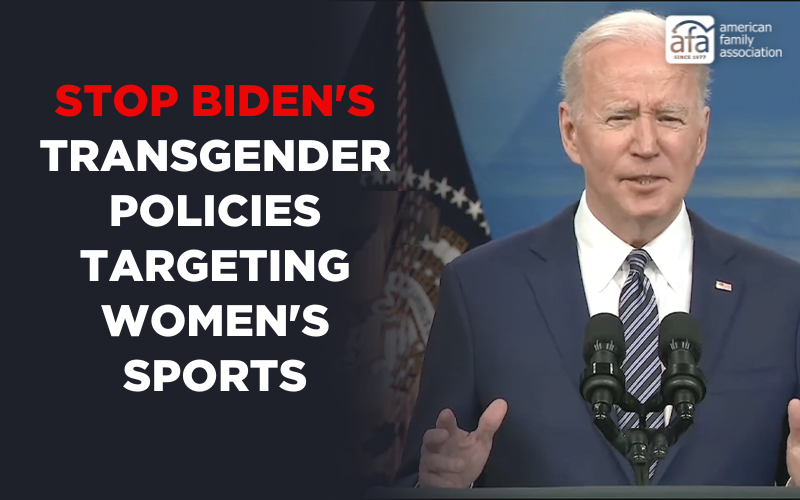 President Biden: Let boys play on girls' teams…or else!
President Biden's Department of Education (DOE) is proposing a new rule that will force public schools to officially recognize boys who declare themselves to be girls and allow them to compete in girls' sports, regardless of their biology.
While Republicans in Congress are working to pass laws protecting women's sports from the obvious physical and biological advantage males have, the DOE is undermining the Constitution by attempting to legislate from the executive level.
In a nutshell, President Biden and the DOE are threatening to withhold Title IX money that is designated to fund the education of America's children. If they get their way, every public school in the country will be required to adopt policies that force girls' and women's athletic competitions to allow biological males to compete in order to get federal funding.
By law, the proposed rule can't be put in place without a required public comment period. This is a defense mechanism to ensure the president's office can't arbitrarily add or change rules or laws in the middle of the night.
Right now, over 16,000 people have filed public comments regarding this proposed rule. Mostly, these comments have been submitted by pro-trans and gay activists at the urging of LGBTQ groups across the country.
We must confront this attack on common sense, general morality, and biblical authority. When biological males are allowed to compete against girls and women, the field is not just uneven, it's totally unfair!
TAKE ACTION
More than once, a proposed and dangerous rule by the Biden administration has been shut down by overwhelming opposition through the public comment process.
Submit your public comment today to help neutralize President Biden's threats to withhold YOUR tax dollars from YOUR local public school. 
It is always more effective to write your own letter, but we have provided a sample comment for you to submit.