Monday, February 06, 2023 @ 12:17 PM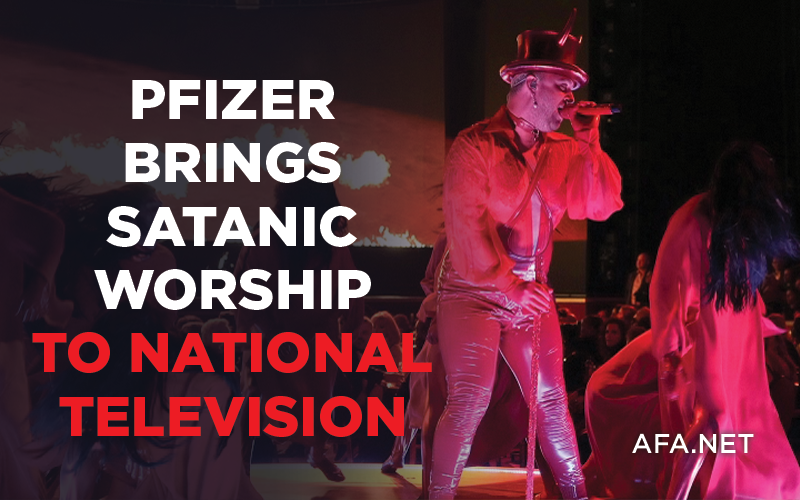 Sign our petition to Pfizer
On Sunday, many Americans gather to worship God as a family of believers.
But to Pfizer, CBS and the Grammys, Sunday is a time to bring debauchery and Satanic worship to the world.
During the annual Grammy Awards ceremony on Feb.5, originally designed to recognize outstanding artists in the music industry, Pfizer pharmaceutical company felt it fitting to sponsor performers Sam Smith, who claims to be non-binary, and Kim Petras, who claims to be transgender. These two gave the nation a Satan-themed performance of their song "Unholy," in which Petras performed inside a cage with drag queens dressed in devil costumes, while Smith gyrated in a costume with devil horns sticking out from a top hat.
The entire "performance" depicted a hellish scene with lots of darkness, blood red colors and flames.
You can read an in-depth article (with video) by Todd Starnes here.
Pfizer's sponsorship and ads suggest the company wants your body to be healthy but has no concern about souls celebrating hell.
TAKE ACTION
Sign our petition to Pfizer, urging the company to distance itself from controversial programs that have a history of offending decency and disrespecting people of faith.
You might consider using alternative health products and medicines to those made by Pfizer. Some of Pfizer's most recognizable products include Advil, Celebrex, Robitussin, Chapstick, Preparation-H, Sensodyne toothpaste, Centrum vitamins and Nexium for heartburn.