Thursday, May 12, 2022 @ 07:54 PM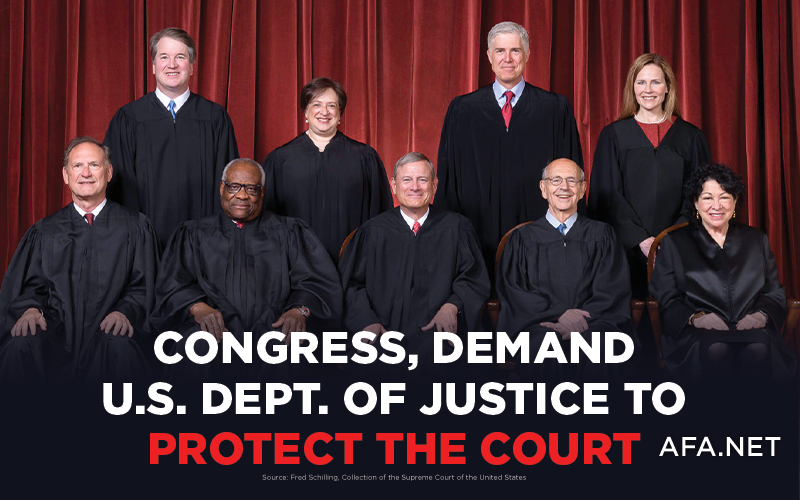 Take action by sending an email now
While Democrats are pushing to pack the court with pro-abortion justices, they refuse to demand that the U.S. Department of Justice enforce the rule of law and protect U.S. Supreme Court justices from death-culture radicals. 
In violation of federal law, abortion extremists are protesting outside the homes of Supreme Court justices. The Biden Administration has specifically encouraged these illegal acts, an arguably impeachable offense. Senate Democrat Majority Leader Chuck Schumer has also said he doesn't have a problem with the protests. And U.S. Attorney General Merrick B. Garland and the U.S. Department of Justice – perhaps too busy going after parents at school board meetings – has been totally silent.
One U.S. representative has had enough. Congressman Mike Johnson (R-LA) issued a press release announcing the introduction of "a congressional resolution condemning the intimidation tactics used by pro-abortion activists."
Congressman Johnson stated in the release:
The possibility that individual states may again be allowed to prohibit the killing of unborn children has, of course, sent the Democrat Party and other radical pro-abortion activists off the deep end. As the White House continues to equivocate, this resolution makes the position of Congress crystal clear: violence, property damage, threats and intimidation tactics must be condemned, and these blatant violations of federal and state laws must be prosecuted.
Take action by sending an email now: Urge members of Congress to co-sponsor Congressman Mike Johnson's resolution calling upon the U.S. Department of Justice to enforce U.S.C. Title 18, Section 1507, and protect the justices and their homes.
Section 1507 of Title 18, United States Code states:
Whoever, with the intent of interfering with, obstructing, or impeding the administration of justice, or with the intent of influencing any judge, juror, witness, or court officer, in the discharge of his duty, pickets or parades in or near a building housing a court of the United States, or in or near a building or residence occupied or used by such judge, juror, witness, or court officer, or with such intent uses any sound-truck or similar device or resorts to any other demonstration in or near any such building or residence, shall be fined under this title or imprisoned not more than one year, or both.
Nothing in this section shall interfere with or prevent the exercise by any court of the United States of its power to punish for contempt.
The Bible tells us in Romans 13:4-5 that God has instituted government rulers as "God's servants, agents of wrath to bring punishment on the wrongdoer. Therefore, it is necessary to submit to the authorities, not only because of possible punishment but also as a matter of conscience."
The U.S. Dept. of Justice should have already stepped in and applied the law, administered justice, and restored order for the good of these justices, who have been subjected to intimidation, threats, and possible attack by pro-abortionists.
Send an email and urge your congressman to become a co-sponsor on the House Resolution introduced by Congressman Mike Johnson and over 40 other members of Congress to protect the justices and their homes.