Tuesday, June 21, 2022 @ 02:52 PM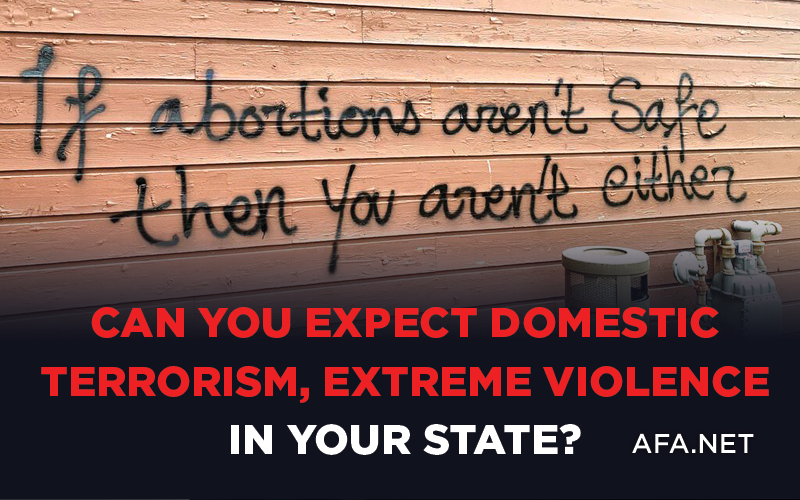 Do your part to encourage your state leaders to be prepared
When the Supreme Court releases its Dobbs v. Jackson Women's Health Organization ruling within the next 10 days, according to the May 2 leak of the draft opinion, Roe v. Wade may be reversed. It is expected that the high court ruling will be followed by violence unleashed across the nation by those who support abortion.
The threat is so credible that the U.S. Department of Homeland Security has already issued a "Terrorism Threat" advisory bulletin for the release of the Dobbs ruling and the days following. The advisory warns of widespread violence by abortion rights extremists against pro-life organizations, pregnancy centers, churches, businesses, and individual pro-life advocates.
These attacks could include arson, bombings, property destruction, and physical violence against persons, their homes, and their places of business. Churches can expect hostile disruptions of services by rabid protestors entering the building and yelling obscenities and carrying out other disruptions. 
Already, the Washington Stand has recorded at least 41 separate incidents of attacks, which does not include the recent incident in which a man was arrested outside the home of Supreme Court Justice Brett Kavanaugh and charged with attempting to murder him.
The people who commit these crimes obviously have no respect for the rule of law. It is even more evident they are ready to use violence against those who do not embrace their pro-death ideology. 
TAKE ACTION
The threat is real. In your state, there are those who are right now waiting in the shadows, ready to let loose their indignation through aggression and violent acts.
Today, will you do your part to encourage your state leaders to be prepared?
Email your governor now.

 

Urge him or her to take measures to prepare your state for the likely violence in the immediate hours and days following the release of the high court's opinion. State police and even the National Guard should be alerted and placed on standby in order to protect innocent people, homes, buildings, businesses, and especially churches and pro-life organizations.
Email or write your state attorney general.

 

Ask them to be prepared to fully prosecute anyone who commits crimes against other persons, personal and private property, businesses, and public property.