Friday, October 25, 2019 @ 8:52 AM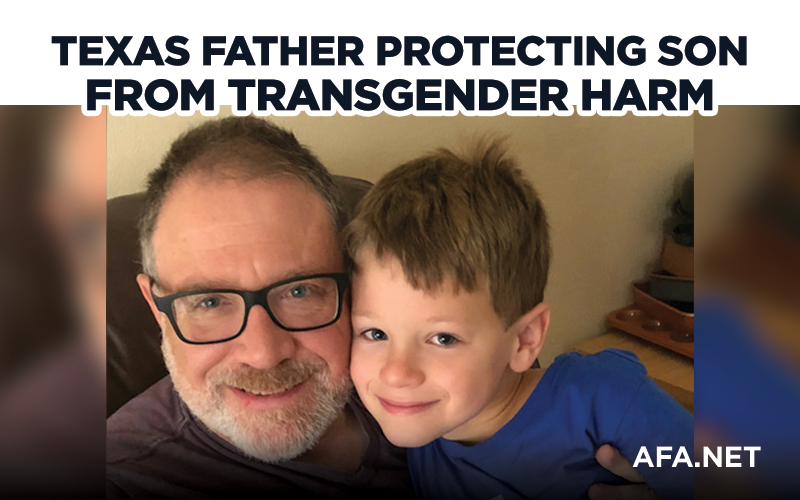 Texas father protecting son from transgender harm
A Texas father has been fighting for sole custody of his son in state court. Jeffrey Younger has been in court with his ex-wife, Dr. Anne Georgulas, over the claim that she's coerced their son to identify, dress, and socialize as a girl. The mother has declared she wants to "transition" James "into" a girl by calling him "Luna." 
Dr. Georgulas's desire to "transition" their son from male to female could possibly include her desire for James to undergo chemical castration. This medical "treatment" would halt puberty or the biological development of his sex. This is unconscionable, but there is no Texas law against such action.
Sign the AFA petition in support of Jeffrey Younger who's fighting for what's right for his son, James. AFA will personally deliver the petition expressing your prayers and support for Mr. Younger, James, and Dr. Georgulas.
 Texas Attorney General Ken Paxton (R) stated in a recent news release, "Texans understand that children...should be supported and properly cared for as they grow up in our communities. I trust that DFPS (Department of Family and Protective Services) will act immediately upon our request, conduct a thorough investigation, and protect this child." 
On Thursday, the court released its decision that Mr. Younger would have joint conservatorship over James, as well as the ability to make joint medical decisions along with Dr. Georgulas.
Although this is good news, it is not the best news. Therefore, I urge you to join me in signing the petition to pray for -- and stand with -- Mr. Younger, his son, James.
Let's also pray that the child's mother will turn to God and change her intentions that are harmful and confusing to this little boy.