Thursday, August 02, 2018 @ 10:28 PM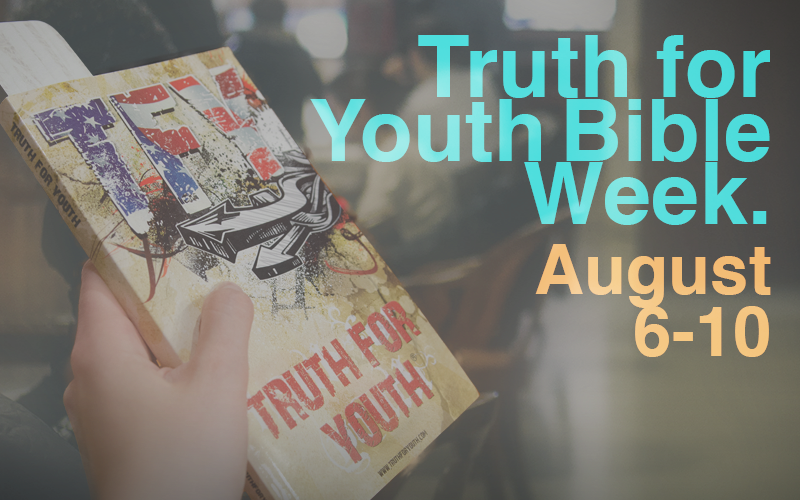 A FREE TRUTH FOR YOUTH BIBLE FOR EVERY TEEN, AGES 13-18!
American Family Association and Revival Fires International are partnering to reach America's youth with the Word of God!
One free Truth for Youth Bible will be given to every student between the ages of 13-18 who commits to pass it along to a friend in school by going here. Additional copies may be purchased at a discounted cost here.

Along with the free Truth for Youth Bible, the student will receive an attractive wristband from Engage Magazine, a division of American Family Association. The wristband promotes the Sixth Commandment, "You Shall Not Kill" (Exodus 20:13). The social media campaign hashtag "Number 6" (#Number6) is meant to reach young people with a message of life. We encourage students to give away the free Bible and proudly wear the wristband to promote life among their friends. With the rise of school shootings, the need to return to the biblical view of life is urgent!



Help us give away thousands of free Bibles to teens and at the same time promote the Sixth Commandment; it's more than a prohibition against murder, it's a validation of life!!

The Truth for Youth Bible consists of the entire New Testament and includes full color graphic novels that present a Christian perspective on many of the issues that teens face, such as, school violence, sexual purity, homosexuality, abortion, pornography, evolution, drugs, drunkenness, peer pressure, honor, suicide, bullying, sexting, cutting, the supernatural and pluralism. God's wonderful plan of salvation is incorporated into each of the stories. Student's Legal Rights on Public School Campuses are displayed on the back cover of the Truth for Youth Bible to inform school administrators and young people that they have the right to give Bibles away on campus during non-instructional time. The Truth for Youth Bible is also available in Spanish!

Dr. Tim Todd, designer of the Truth for Youth Bible and president of Revival Fires International, headquartered in West Monroe, LA, said, "I am convinced that introducing young people to Jesus Christ is the only real solution to the senseless violence in our schools! When Bibles were in school, bullets were not! Giving 2.5 million Truth for Youth Bibles to America's youth has resulted in our ministry receiving more than 25,000 decision cards from young people giving their hearts to Christ!"

The goal is to get the Word of God back into the public schools and to give young people an opportunity to share their faith.

Parents, order a FREE Truth for Youth Bible & wristband on behalf of your son or daughter now! You can also purchase additional copies of the Truth for Youth Bible at a discounted cost here.

AFR and Revival Fires International invites you help us get the Word of God into our nation's public schools and reach a generation of young people.