Tuesday, June 27, 2017 @ 11:03 AM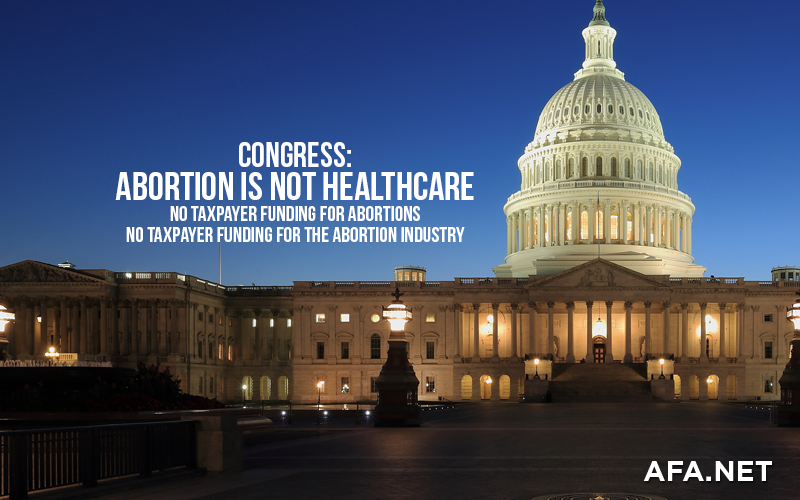 Pro-life provisions in Obamacare repeal are non-negotiable
The pro-abortion industry is trying to strip out two pro-life provisions from the bill H.R.1628, known as the Obamacare repeal bill. You can be assured that Marxists and secular progressives will pull out all stops to use your tax dollars to sustain and expand a culture of death through abortion.
 
I sent your U.S. senators a letter and a copy of AFA's press release  today calling on them to support key pro-life provisions in H.R.1628. I ask that you take the same action now and email your senators urging them to protect these pro-life provisions.
 
Your U.S. senators are being heavily lobbied by pro-abortion forces who are pressuring them to strip out two pro-life provisions in the bill. One provision bans taxpayer funded abortions, and the other provision defunds Planned Parenthood.
 
The first provision your senators need to support is Hyde Amendment language restricting any federal funding, including health care tax credits, from being used for abortion. If the Obamacare repeal bill does not 100% ban funding for abortion, then nothing in the bill will prevent your tax dollars from being used to fund abortion. This provision is essential, and AFA will oppose this bill if this provision is not included.
 
Another provision your senators need to support is terminating all Medicaid reimbursements to abortion providers, including Planned Parenthood. These Medicaid funds should be reallocated to community health centers that provide health care services but do not perform elective abortions. Taxpayers should not be funding health care providers like Planned Parenthood.
 
Urge your senators to support these two provisions protecting and advancing the sanctity of human life as H.R.1628 is debated and considered. A vote on this legislation could take place as early as Wednesday.