Thursday, April 25, 2019 @ 11:03 AM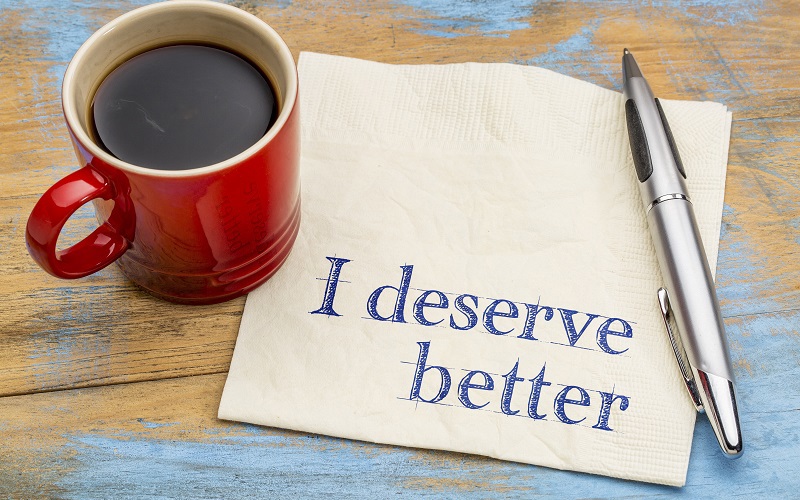 ATTENTION: Major social media outlets are finding ways to block the conservative/evangelical viewpoint. Click here for daily electronic delivery of The Stand's Daily Digest - the day's top blogs from AFA.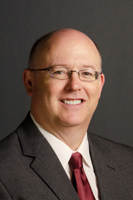 Dr. Robert Youngblood
Assistant Digital Media Editor
MORE
When I used to hear Dave Ramsey answer questions of "How are you?" from his callers with "Better than I deserve," it used to irritate me. 
Maybe it was because of too much "pop psychology" and a former diet of self-esteem readings.  Really, though, you don't have to do anything except exist in our culture for that to seep through your pores and into your mind now.  The picture above summarizes it: "I deserve better" with a tinge of "that's not good enough for me."
Maybe it was because I thought it downplayed the hard work I know it takes to do what he talks about:  admit you're wrong, get out of debt, and establish financial peace which can lead to becoming wealthy because of a willingness to do what others won't so you can have what others can't.
Maybe it was because I thought it was kind of insulting to his listeners. 
I don't like trite answers and standard answers to "How are you?" or "How ya' doing?" but that has to be balanced with the reality that flits through my mind of Do they really care and want to know?
So I've struggled over the years to answer those polite but not necessarily sincere questions.  I've heard or tried ones like:  "Good," "Grateful," "It doesn't have to be perfect for me to be grateful, so I am," or "Blessed of the Lord and highly flavored."  The last one is from someone I work with who says this because as Christians we are supposed to be salt and light, and plus she says it sounds much better than "Blessed of the Lord and highly lit."
Finally, I decided to stop a moment and really focus some light on this.  I played a game I learned a long time ago.  It allows anyone to more easily "walk a mile in someone else's moccasins" even if you don't agree with them.  Psychologist George Miller said in an interview with Elizabeth Hall in 1980, "In order to understand what another person is saying, you must assume that it is true, and try to imagine what it could be true of."
I knew Dave is a Christian, so I did my best to put myself in his shoes to see if I could figure out "Why does he say this?" based on my knowledge of the Bible and God.  Realize, while I like my answer and you may too, I still may get it horribly wrong.  This is where answers from the horse's mouth would be best.  
Grumbly Christians
If it were true, that no matter what, I'm better than I deserve, then that would mean I deserve less than what I might be grumbling about right now – no matter how bad it might be.  That' a scary thought. It isn't pleasant either.
First, grumbly Christians make crummy Christians with a crumbling witness to the world.  The Bible clearly states in Philippians 4:8, "Finally, brothers, whatever is true, whatever is honorable, whatever is just, whatever is pure, whatever is lovely, whatever is commendable, if there is any excellence, if there is anything worthy of praise, think about these things."  A quick observation: outside of God the Son, God the Father, and the Holy Spirit, how many things fulfill all of these?
But even in our imperfect world, we can find things which meet some of these no matter how bad it is.  Yet we can acknowledge our weakness to God and the Holy Spirit will intercede for us (Romans 8:26).
We're still on the first point because grumbly Christians share their grumbles with other people, and normally do this before or instead of sharing with God.  Too often we flap our jaws, instead of acknowledging God with awe.  However, we should quickly focus on, "Humble yourselves, therefore, under the mighty hand of God so that at the proper time he may exalt you, casting all your anxieties on him, because he cares for you" (1 Peter 5:6-7). Fewer grumbles, more humbles.  Less warning flares, more praising prayers.
Is it any wonder our souls are torn asunder?  We wander with our wailings and worries from person to person weakening our faith instead of remembering verses like Nehemiah 8:10, Isaiah 41:10, and Exodus 15:2.
Paul had pondered the pummeling power of the pressures of life from many directions.  He tells us from 2 Corinthians 12:9-10:  "But he said to me, 'My grace is sufficient for you, for my power is made perfect in weakness.' Therefore I will boast all the more gladly of my weaknesses, so that the power of Christ may rest upon me.  For the sake of Christ, then, I am content with weaknesses, insults, hardships, persecutions, and calamities. For when I am weak, then I am strong."
Hey, I absolutely know life isn't heaven on Earth, but didn't Jesus tell us to pray "Thy will be done on Earth as it is in heaven"?  He knew.  How long had he already been in Heaven as part of the Trinity before coming to Earth?  He knew and the Holy Spirit inspired Romans 8:18, "For I consider that the sufferings of this present time are not worth comparing with the glory that is to be revealed to us."  Jesus had already seen it.  He knew it.    
Life is not easy, but God is always good – even when it hurts. 
And life can really hurt sometimes, especially when we don't forgive.  But that's been better covered by another, so I suggest you visit these next few links sooner rather than later for more because God forgives us of our sins as we forgive others:  First, Second, Third, Fourth, and Fifth. 
Satan's deceiving plan
Now my second point.  When I think of God's holiness, justice, and love, I absolutely know I am "better than I deserve."  Some people like to slander God's love today, claiming a loving God would not dare hate.  They ignore Proverbs 6:16-19, Psalm 11:5, and others.  Some try to hide, erase, or redefine what God calls sin so they can feel good within and claim goodness to the world outside.  By doing so, they call evil good, call good evil, and perhaps think a popular vote can overrule God's authority. 
A case in point is the conflict in the United Methodist Church (UMC) right now and their recent convention where a 438 to 384 vote supported the "Traditional Plan" over the "One Church Plan."  The "One Church Plan" was supported by pro-LGBT forces.  In essence, biblical marriage and sexuality withstood man's liberal and 'western enlightenment.'
One African leader and dean of a theology school in Liberia, Dr. Jerry P. Kulah, shared about the UMC decision beforehand by saying:
Friends, please hear me, we Africans are not afraid of our sisters and brothers who identify as lesbian, gay, bi-sexual, transgendered, questioning, or queer. We love them and we hope the best for them. But we know of no compelling arguments for forsaking our church's understanding of Scripture and the teachings of the church universal.
And then please hear me when I say as graciously as I can: we Africans are not children in need of western enlightenment when it comes to the church's sexual ethics. We do not need to hear a progressive U.S. bishop lecture us about our need to "grow up."
Let me assure you, we Africans, whether we have liked it or not, have had to engage in this debate for many years now. We stand with the global church, not a culturally liberal, church elite, in the U.S.
Neither the law of man nor the fines of government can decrease the authority of God as the supreme judge of all by the standards He holds and defines.  His law doesn't always match with man's law.  Who do you choose to agree with here, God or man? 
A holy God who is just and loving punishes sin, and the church has tried playing games with sin for too long in the pursuit of cultural acceptance and church growth.  R.C. Sproul's retort to a common saying summarized it when he wrote on Twitter, "It has been said that God hates the sin and loves the sinner.  But it's the sinner God sends to hell not just the sin."   
Here's Satan's evil trick:  He wants to remove the idea of sin or redefine it because he knows you cannot be forgiven or repent for what you do not believe to be wrong – just like it says in 1 John 1:9:
If we confess our sins, he is faithful and just to forgive us our sins and to cleanse us from all unrighteousness.
God can forgive sin, as long as you agree with God it is sin.  Otherwise, you drink not from the Living Waters of Jesus' work, but you sip from a sweetened and cyanide-laced perversion poured for you by the Father of Lies. 
So watch out for those who play with "redefining" sin from what the Bible actually says.  They do not believe in the authority and inerrancy of God's Word and place souls in danger.  They place your soul in danger.
"Better than I deserve" meaning when seen against eternity?
Let's slip on the moccasins again.  The answer I think Dave may have meant is almost here. 
When I realize any sin, whether I call it small or large or fail to acknowledge it is a sin, is enough to lead to hell because God is holy and just, then anytime I'm not in hell should mean I'm "better than I deserve" according to God's Word. 
Even so, God wants more than just a temporary experience of "better than I deserve" for us and gives each of us a choice with consequence.  The choice fully centers for all of us sinners on the redemptive power of Jesus who can restore the relationship and save the soul.
But what about you?  What about your eternity?  Will you be better than you deserve only here but not for eternity?  Will this be the best that there is?  If you want to experience the eternal "better than I deserve" by having a fully restored and saving relationship with Christ, please see here or here. 
Deep, immovable joy
And don't think I live some hyper-blessed or perfect life or that I don't know pain or worry.  Oh, and don't think that I or any other Christian is perfect when compared to the holy standards of God.  We are not.  But we heed the Christian call.  Sproul wrote a Christian's call is "… to own our sin, to plum its depths, but then to know that God's grace in Christ is greater still.  Deep sorrow and repentance followed by deep confidence in His grace will lead to deep and immovable joy."
Even as I wrote this I got the word about a close relative who may now be facing his fourth fight with cancer within the last eight years.  I have another relative who has had nearly 200 cancer treatments in eight years. There are many I love who suffer from the consequences since the fall of Adam and Eve, just as we all do.
God wanted better for us, but only under His rules and rule of authority.  Will any of us be brave enough to ask God to clearly show us what we are calling good that He calls evil?  Until we do, I'm afraid we all will be missing out on the blessings He desires for us here and hereafter.
Life's not perfect, but God is always good – even when it hurts. 
Sometimes the hurts turn us from sin to Him.  Sometimes the hurts remind us there is more than this.  And because of Jesus, I too am doing better than I deserve.  And praise God, I know those relatives I've mentioned have a restored and saving relationship with God through Jesus' work too. 
That is better than I deserve!  Thank You God despite the pain and hurts.
Please Note: We moderate all reader comments, usually within 24 hours of posting (longer on weekends). Please limit your comment to 300 words or less and ensure it addresses the content. Comments that contain a link (URL), an inordinate number of words in ALL CAPS, rude remarks directed at the author or other readers, or profanity/vulgarity will not be approved.