Two questions that could determine America's future
Dear Faithful Friend and AFA Partner,
I believe our God is sovereign over nations and kingdoms. The Bible clearly teaches that.
More to the point of this letter, no one but God Almighty knows what will become of America over the next 25 years.
And yet, Scripture shows us that because God weaves His purposes into the actions of men and women, our lives matter. Yes, it's a glorious mystery and a divine tension that we live in.
With that truth in mind, let me encourage you to pray this simple prayer: "Father, use me to accomplish Your will in our beloved country."
As each of us prays and thinks through what we can do to restore a sense of Christian values to American culture, two critical questions surface:
Who is teaching our children and grandchildren about right and wrong?
Will God's people look to God's Word to determine what is true and what is false?
Before I tell you about three recent examples that demonstrate the gravity of those two questions, let me say once again that our mission at AFA is to proclaim and defend the truth of God's Word, and to encourage Christians to be salt and light in an increasingly dark culture. 
To that end, I want you to have a remarkable and very readable resource: God's Blueprint for Life, Liberty, and Property, a 96-page Bible study by Stephen McDowell, longtime AFA friend and president of the Providence Foundation. Together, Stephen and I have led Christian heritage tours to Washington, D.C., for over 22 years.
This engaging Bible study examines the Ten Commandments and shows how they are valuable as 1) a restraint against sin in society, 2) a rule by which we should govern our lives and grow to maturity, and 3) a mirror of our lives to drive us to Christ.
It's 96 pages of wonderful, practical, and critical insights that are foundational to answering the two questions above.
Please request your copy of God's Blueprint today. I want to send it to you in appreciation for your faithful and generous support of AFA. Use the enclosed gift slip and postage-paid envelope to request your copy.
Now, think of the celebrities, advertisers, online "influencers," actors, musicians, authors, politicians, educators, athletes, and media personalities who are in the cultural spotlight. Very few of these high-profile voices are holding up the banner of Christ to our children. Most Christians would probably struggle to name a handful. 
Considering the massive number of messages our children consume every day through social media sites, videos, advertisements, and other outlets, it has never been more critical that Christian parents press the gospel to their children.
For if they fail to do so, there are plenty of God-haters out there who are willing to teach our children and grandchildren their version of right and wrong – and that won't come from the Bible.
These recent examples make the case:
l You may remember Pizza Hut's "Book It!" promotions over the past 38 years that encouraged kids to read books in exchange for a personal pan pizza. Unfortunately, the company is now in hot water for promoting a book that encourages kids to go "drag" – that is, wear opposite-gender clothing like a drag queen.
You heard that right. The book is titled Big Wig, and it is targeted to children in pre-K through third grade. Publisher Simon & Schuster says on its website that Big Wig "celebrates drag kids." By the way, the Pizza Hut promotion was an effort to celebrate homosexual and transgender Pride Month in June.
l  Meanwhile, the Biden administration came under fire for tying federal money for school lunch programs to the promotion of LGBTQ ideologies. For states that have passed protections against LGBTQ propaganda, the U.S. Department of Agriculture has threatened to cut off federal money unless they get on board the pro-homosexual, pro-trans train.
Governors of states such as Florida (Ron DeSantis) and South Dakota (Kristi Noem) have issued threats of their own if the administration follows through, namely filing suits in federal courts.
l  Just as alarming, the Webster Groves School District in Missouri has been accused by parents of surveying children – without parental consent – concerning topics like gender identity, sexual orientation, and the political beliefs of their parents.
Parents were forced to engage the services of the Southeastern Legal Foundation (SLF) over the issue. The legal group has asked the Missouri attorney general's office to look into the matter. SLF said the school district may very well have violated both state and federal law in conducting the surveys of students in elementary, middle, and high school.
The legal group said the school district also required students to provide information about their political beliefs, sexual activity, mental health, and personal family relationships. Again, all without parental consent!
AFA has been warning about this kind of hostile government overreach for years.
The "progressives" in America believe your children belong to them.
And if you think our churches will use their moral influence to restore some sanity and sanctified common sense to our culture, I'm sorry to say, that looks unlikely.
Recent research paints a picture of the church in America as weak and confused, and well, theologically ignorant.
Although 176 million American adults identify as Christians, recent polling by the Cultural Research Center (CRC) at Arizona Christian University reveals that only 6% embrace a biblical worldview.
Even worse, in a 2022 survey, the CRC found that only 37% of pastors have a biblical worldview. While evangelical pastors scored higher, it wasn't anything to brag about, as only 51% made the cut.
The CRC said, "Because evangelical churches, by definition, believe that the Bible is God's true and reliable words to humanity, it is particularly shocking to find that half of evangelical pastors do not have beliefs and behaviors that are consistently biblical."
The evidence is everywhere. America is growing more and more untethered from reality and more and more rebellious against God.
But I pledge to you, that by God's grace, AFA will continue to commit every resource at our disposal and every ounce of energy we can muster to strengthen a Christian worldview in American culture and to resist the godless agenda of secular "progressives."
It's always easier to ignore a problem than to solve it. We at AFA are solution-oriented people, and I think you are too.
I know we cannot fix every problem in our fallen world,
however, simple obedience calls us to seek justice, righteousness,
and common sense in American culture.
That's why I'm asking you today to pray and financially support this crucial ministry. Without you and the larger AFA family, this ministry does not exist.
In appreciation for your contribution, I'll send you God's Blueprint for Life, Liberty, and Property.
May He multiply your gifts and use your prayers to renew our nation and bring great honor and glory to Himself.
Read More
About Tim Wildmon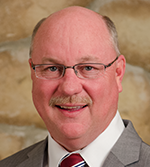 Tim Wildmon is President of American Family Association and American Family Radio. AFA is a national organization that advocates for the biblical teaching on morality and values. Tim host a daily program on AFR's 180+ stations. He has appeared many times on all the major television networks including the Fox News Channel and CNN. He has written for USA Today, Focus on the Family and several other national publications.
Tim joined AFA in 1986. He has been married to his wife Alison since 1984, lives in Tupelo, Mississippi, and has three children and seven grandchildren. He is a graduate of Mississippi State University with a degree in journalism.