Christians are the last defense against America's fall...
Dear AFA Supporter and Christian Activist,
The influence of the secular Left is so ingrained in our culture that even innocent school children are caught in the crossfire of the fight to expunge Christianity from American public life. Here's a recent example.
Like thousands of other schools across the nation, when Simpson Central Elementary School resumed in-person classes last fall, students wore face coverings. Some masks included logos of favorite sports teams, various decorative symbols, and even political messages such as "Black Lives Matter."
But Lydia Booth, a third-grader who wants to be a missionary, wore a mask so objectionable that school officials forced her to remove it. What was the face mask message that caused the outrage as the story became public in February?
"Jesus Loves Me"
The whole incident would be no surprise in a big city, secular stronghold, but Simpson Central Elementary School is in Pinola, Mississippi, population 1,543 – dead center in the buckle of the Bible Belt. Alliance Defending Freedom, a Christian legal group, is now defending the 9-year-old girl's religious rights.
Brothers and sisters, I have news for increasingly the dominant religion in nearly every sphere of American life.
Christian activists – like you and me – are the last defense against America's headlong fall into a moral, political, and economic abyss from which she will not recover.
That's why I am grateful for you and all the warriors who stand with AFA in the fight to restore Christian morals and values, such as liberty, justice, and self-rule, to our culture.

God is calling each of us who see the world through the cross of Christ to stand humbly, lovingly, and boldly for His truth.

Later in this letter, I want to offer you a gift that proclaims your willingness to activate for the sake of our nation and those who come after us.

Secularists have been waging a war against the Christian faith in America for more than a century. My dad, Rev. Don Wildmon, understood that all too well when he founded AFA in 1977.

Each day brings more evidence that he was right. And each day I grow more convinced that AFA's work is critical to the survival of America as we have known it. This I promise you:
AFA will never stop defending the scriptural truths upon which the nation was founded, nor will we weaken in our support of the First Amendment's protections of religious liberty.
I'm sure you're aware that the fight is growing fiercer every day as members of the secular Left grow more blatant in their hatred of God.
Take the recent debate in the U.S House of Representatives over the so-called Equality Act, a sinister bill that aims to dismantle religious liberty in favor of sexual rebellion. Rep. Greg Steube, a Republican serving Florida's 17th District, spoke passionately about the dangers of dismissing God's created order. Steube also read from the Bible in his defense of the biological differences between men and women.
Quoting from a Bible commentary, he said, "Whenever a nation's laws no longer reflect the standards of God, that nation is in rebellion against Him, and will inevitably bear the consequences."
Rep. Jerry Nadler (D-NY) brazenly responded: "Mr. Steube, what any religious tradition describes as God's will is no concern of this Congress."
Make no mistake – many in America, including some of our leaders, are in rebellion against God, and the people of this nation are suffering the consequences!
Here's a heartbreaking example. A stunning new Gallup poll shows that nearly 16% of Gen Zers (ages 19-24) self-identify as LGBT (lesbian, gay, bisexual, transgender). Among this age group, 11.5% said they are bisexual.
Responses from the general public in the Gallup survey were lower: only 1.4% said they are gay, 0.7% lesbian, 3.1% bisexual, and 0.6% transgender. That's an LGBT total of 5.8% – which means the Gen Z response was more than three times higher than the general public.
It is clear that decades of propaganda from Hollywood, corporate America, public schools, and higher education have brainwashed an entire generation.
READ MORE
However, what's even more distressing is that some within the body of Christ have capitulated to the secularists. I was dumbfounded to learn recently that Bethany Christian Services (BCS), the largest Protestant adoption and foster care agency in America, has decided to start placing children with LGBT couples!
In the troubling announcement, BCS senior vice president Nathan Bult explained the decision to the Christian Post by stating that the adoption agency chose not to focus "on the various doctrinal issues about which Christians may disagree."
What a disgrace! When Jesus defined marriage as being between one man and one woman, it wasn't an optional "doctrinal issue" that can be ignored to curry favor with the world.
Jesus' definition of marriage reflects the created order as fashioned by the King of kings and Lord of lords! What the Bible teaches about marriage and family is non-negotiable for anyone claiming to be a Christian – or a Christian ministry
I know that standing against the popular secular culture is not comfortable. To use the language of the Bible, we are often inclined to "seek the favor of men" rather than God (Galatians 1:10). In addition, one of Satan's greatest ploys is to whisper: "How can you tell others what's right or wrong when you're such a sinner?"
How do we overcome our lack of courage? Hebrews 4:16 answers:
"Let us then approach God's throne of grace with confidence, so that we may receive mercy and find grace to help us in our time of need."
Friends, our nation is in great need now. As 2 Corinthians 3:12 expresses, it is time for Christians to ask God for humble boldness that finds its courage in the truth of the gospel:
"Since we have such a hope, we are very bold."
God has called AFA to be one of His instruments in answering our prayers for boldness. Our mission statement expresses that:
The mission of American Family Association is to inform, equip, and activate individuals and families to transform American culture and to give aid to the church, here and abroad, in its calling to fulfill the Great Commission.
Everything we do is directed toward God's supernatural transformation – first, of the individual, then society at large.
By God's grace, "activated" Christians will restore America to its Christian foundation. I believe that is the only hope for the nation.

I encourage you to join me in praying for our country:
Father, the longer I live the more I am aware that my sin is worse than I imagined. And yet Your love for me – proven by the death of Your Son on my behalf – is greater still. Let me rest in that gospel truth that I might be boldly activated to proclaim Christ as the only hope for our nation and for ourselves.
If you resonate with our mission, please support AFA with your prayers and contributions. In appreciation, I want to send you a gift that expresses our calling on a T-shirt that simply reads: "Inform, Equip, Activate – American Family Association."
Read More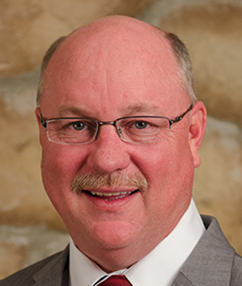 Tim Wildmon is President of American Family Association and American Family Radio. AFA is a national organization that advocates for the biblical teaching on morality and values. Tim host a daily program on AFR's 180+ stations. He has appeared many times on all the major television networks including the Fox News Channel and CNN. He has written for USA Today, Focus on the Family and several other national publications.
Tim joined AFA in 1986. He has been married to his wife Alison since 1984, lives in Tupelo, Mississippi, and has three children and seven grandchildren. He is a graduate of Mississippi State University with a degree in journalism.