Thursday, March 16, 2017 @ 8:48 AM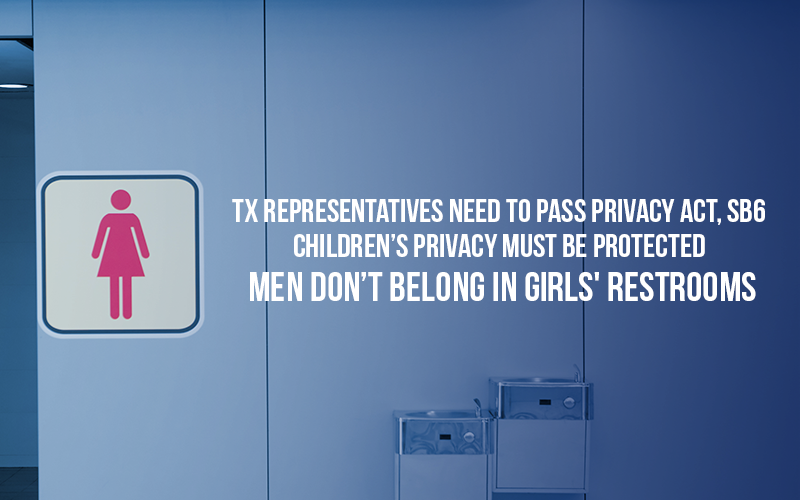 We need your help to ensure the voice of the Texas people is heard.
Tell Texas representatives to pass Senate Bill 6 protecting the privacy and security of public school students. SB6, known as the Texas Privacy Act, protects children from being intruded upon by members of the opposite biological sex while using government restrooms, showers, and dressing rooms.

The Texas Privacy Act will:
Create a law requiring men and women to use separate, designated restrooms according to their biological sex. It also prevents local municipalities from creating laws making it possible for sexual predators to enter restrooms and victimize either sex.
Ensure Texas businesses have the liberty to establish bathroom policies that cannot be overridden by local governments.
Prevent public schools from establishing restroom policy allowing boys to go in girls' restrooms, locker rooms or showers, and vice versa.
SB 6 protects the dignity and privacy of all Texans in intimate facilities in public schools and government buildings. The bill exempts private businesses from local government laws dictating restroom, locker room, and changing area policies. Get Six Essential Facts About Senate Bill 6 here.

Support for SB6 is growing and includes large and statewide organizations such as Concerned Women of America of Texas, Southern Baptists of Texas Convention, Texas Eagle Forum, Northeast Tarrant Tea Party, Stand for Fort Worth, the Texas Pastor Council, Texas Values, and many more.

We need your help to ensure the voice of the Texas people is heard on this important issue. Contact and tell your legislator to vote for SB6, the Texas Privacy Act.